Signs You Need Junk Removal!
Take a look around your home. What do you see? Beyond your typical household items, like your living room furniture and your normal clutter from mail and other paperwork, what do you notice? Oftentimes, it is not until homeowners take a hard look at the space they live in when they decide enough is enough. As things begin to build up over the years, it can be hard to see just how much space they can all take up. Once you see all of your junk build up, it might feel extremely overwhelming. Here are the signs that it is time for a junk removal service to step in and take control of the situation.
THE TELL-TALE SIGNS YOU NEED JUNK REMOVAL

You can't park your car in your garage – Your garage was meant to store your car. This is especially true in the winter time. While you could be avoiding snow brushing and frozen windshields, you're stuck parking your car in front of your house, instead of utilizing the protection of your garage.
You have more furniture than you use – If you have a spare room that has furniture that isn't being used, then you probably have too much. The furniture could have built up over the years from multiple moves and multiple people, but if those couches and beds are simply collecting dust, consider getting rid of them.
You closet is over capacity – A good way to tell if you have too many clothes is by looking at where the closet rail meets the wall. If there is any separation between the wall and the pole, that means there are more clothes than the closet can handle. Go through your clothes and get rid of some. A good rule of thumb is, if you haven't worn the item in more than one year, then you're more than likely not going to wear it again, and you need to get rid of it.
You have more than one junk drawer – Most homes have a junk drawer in their kitchen. If you find that every single room in your house has a junk drawer full of things that you've forgotten about, then it's time to clean them out.
MAKE THE DECISION TO CALL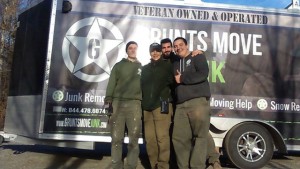 If these signs ring true for your home, be sure to get things cleaned up. When it comes to the larger projects with your garage and furniture, leave the work to our junk haulers. You can hire a company to come in and haul away junk so that your home is inviting and clutter free. Contact the professionals at Grunts Move Junk today and get the clarity you've been needing.